Kennesaw State University's Bernard A. Zuckerman Museum of Art to Open Fall Exhibitions
KENNESAW, Ga. | Aug 24, 2021
Presented through a despairing lens, works selected ask for empathy, suffering, and sacrifice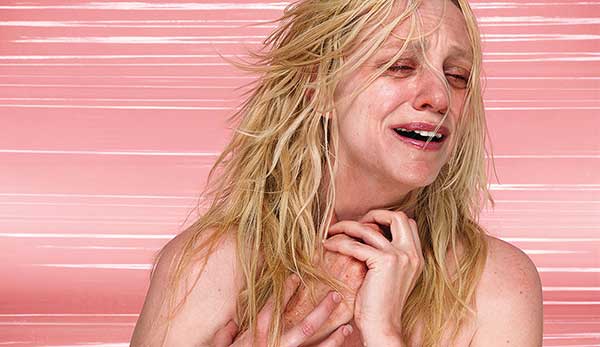 A part of Kennesaw State University's School of Art and Design, the Bernard A. Zuckerman Museum of Art will present two exhibitions this fall. Curated by Cynthia Nourse Thompson, Director of Curatorial Affairs, "This Mortal Coil" and "The Labor of Remembrance" will open on Saturday, Aug. 28 and run through December 11. The public is invited to an opening reception on Saturday, Aug. 28, from 4 to 6 p.m.

"The two exhibitions are interrelated in dialogue, as they seek to mitigate emotional suffering and mortal pain. This imposing presence of fear and loss is compounded by images, which while beautiful, are laden with sorrow and despondency," explains Thompson.
Shared Universal Causes
Works by 17 prominent contemporary artists in "The Mortal Coil" introduce a visual dialogue as the images are, at times, presented through a despairing lens, pleading for empathy, suffering and sacrifice as shared universal causes. Mortality and loss may be seen in Martha McDonald's "The Weeping Dress," a crepe paper garment hand sewn and dyed according to Victorian mourning rituals. Thompson notes that the work "provides a remarkable glimpse into the first year of a widow's bereavement process of that era."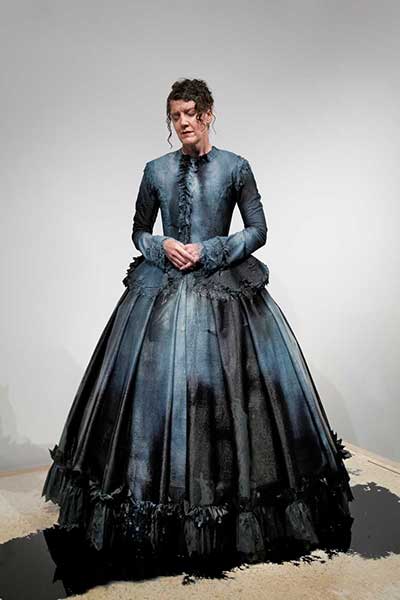 Busy Hands
Piper Shepard's elaborate floral lace veil, "Only their Silhouettes," shows an attempt to forget disparaging feelings, even while echoes of the departed reveal themselves as cast shadows of Victorian mourning flowers. The devotion and dedication to painstakingly hand-cutting the lace acts to mitigate the pain of loss.
The Tie That Binds
Oscar Muñoz addresses similar themes of vulnerability and loss. In "La Linea del Destino," the artist observes the reflection of his face in a pool of water and watches as it seeps between his fingers and slowly dissolves. Louise Bourgeois' "Do Not Abandon Me" presents a single female figure watching as her child hovers on the verge of dissolution. An umbilical cord tethers and unites the two, serving as an underlying theme binding the two exhibitions as an uninterrupted whole.
Fear of Abandonment
Imbued with familial history and youthful memories, "The Labor of Remembrance" presents 21 works by Louise Bourgeois, focusing on prints and textiles ranging in date from 1998 to 2005. In her fabric works, she deftly reconstructs and recontextualizes household textiles such as dishtowels, curtains, and used garments into artists' books. The dimensional compositions serve a purpose for Bourgeois. "I always had the fear of being separated and abandoned. The sewing is my attempt to keep things together and make things whole," she explains.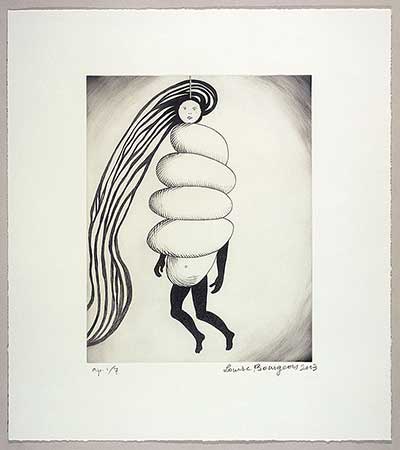 A Fond Look Back
Thompson adds that Bourgeois' prints "courageously explore the traumas of her childhood best through her intense depiction of the body and the amputated body." Bourgeois' fondness for familial nostalgia allows anxiety, fear, helpless, and insecurity to be fully articulated. Mounted during the 20th year after 9/11, the combined exhibitions ask viewers to mournfully reflect on unbearable suffering, both individual and collective, and the frailty of the human condition.
Artists featured in "This Mortal Coil" include Janine Antoni, Louise Bourgeois, Sonya Clark, Gail Deery, Carson Fox, Markus Hansen, Donna Smith Jones, Anders Krisár, Rosemary Laing, Pixy Liao, Roberto Mannino, Martha McDonald, Oscar Muñoz, Tony Orrico, Dario Robleto, Piper Shepard, and Anne Wilson. 
All exhibitions are free and open to the public; reservations are recommended. Additional programming is also available. Learn more about the Zuckerman Museum of Art and the College of the Arts.

--Kathie Beckett
Related Posts