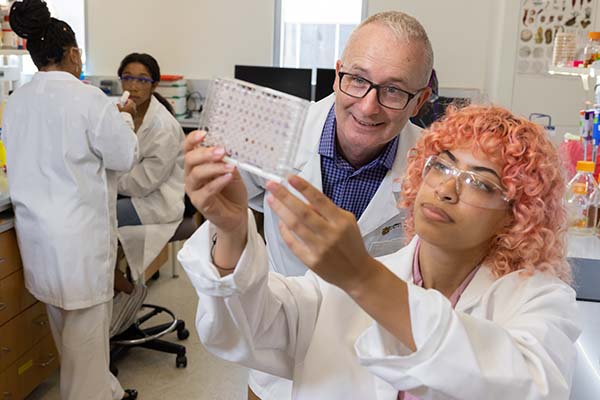 The College of Science and Mathematics (CSM) undergraduate students are invited to apply for the CSM Inspire Summer Scholars Program. For summer 2023, students will develop research skills through hands-on activities related to their preferred project over 10 weeks.
Program Description
The goal of this summer program is to provide Experiential Learning (EL) to undergraduate CSM majors. Students will develop skills to enhance their interest in investigative science, service learning, and internships. Students are expected to write a report at the end of the program. Each student who completes the program will receive $2,550. Deadline to apply is Wednesday, March 15, 2023.
Timeframe
May 22 - July 31, 2023 (10-weeks)
Student Eligibility
This program is open to any undergraduate student with a major in the College of Science and Mathematics (CSM). There are no course prerequisites. Students will be selected based on a match of their interests with projects available. Students will be able to view available projects and apply for the program below. Preference will be given to students in their first or second year of study without prior experience. First generation students or members of a population that is underrepresented in science and mathematics are strongly encouraged to apply.
Read about the current projects available below.
Mathematical Modeling, Data Analytics and Professional Training withApplication to Biological Systems (MaDAPT-BS)

Faculty: (PI) Asma Azizi Boroojeni, Assistant Professor of Mathematics, and Co-PI's Pengcheng Xiao, Assistant Professor of Mathematics and Glenn Young, Assistant Professor of Mathematics

The goal of MaDAPT-BS is to introduce students to research methods in mathematical biology. The program will accept 12 students with majors in math or biology. The program includes both teaching and research phases. In the teaching phase, students will learn fundamental methods to use in their research projects, and in the research phase, they make a team and work on one of the following projects under the supervision of three professors. The students have 20 hours workload per week for eight weeks.

Modeling epidemic on the spatially heterogeneous environment: Infectious diseases spread by individuals' mobility in a metapopulation network in which nodes are communities and edges between nodes are the mobility routes of residents of corresponding communities. Our goal is to understand how the topology of the senet works affects the infection direction and speed of propagation. We will develop a SIR-Network model for spreading infection by mobility and then will calculate the infection spread threshold as a function of network topology. We will finally simulate the model over different network structures to shed some light on the question. The outcome of this research will provide effective engineered non-pharmaceutical interventions according to the regional specificity during outbreaks.

The growth, spread, and mutation of internet phenomena, A study of memes: An internet meme is defined as "an image, video, piece of text, etc., typically humorous in nature, that is copied and spread rapidly by Internet users, often with slight variations". Such units of information are spread rapidly by internet users, often fora short time. The modeling of this spread is of interest for a variety of reasons, especially since substantial amounts of information are spread via this method. In this study, we attempt to evaluate some previously implemented models of memetic diffusion and improve upon them when possible.

Elucidating the influence of harsh environments on breeding decisions among obligate cooperative breeders: Cooperative breeding is a social system in which individuals provide care to the offspring of other unrelated individuals. Such behavior is most observed in harsh environments where food is scarce, and the energetic cost of rearing offspring isrelatively high. This poses an evolutionary question: if helping raise young is energetically costly when food (energy) is scarce, why do unrelated individuals expend this energy to care for offspring that provide them with no direct fitness benefit? In this project, we will study the interplay between the harshness of the environment and the breeding/helping role decisions that each individual chooses. To do so, we will develop a system of ordinary differential equations that combines population and social decision dynamics. The results of this project will help inform decision-making in harsh or uncertain environments, a problem of increasing importance in the face of climate change.

Enzyme Activation in Environmentally Sustainable Deep Eutectic Solvents

Faculty: Mohammad Abdul Halim, Assistant Professor of Chemistry and Biochemistry

Deep eutectic solvents (DESs) are considered as one of the most versatile environmentally sustainable green solvents with widespread applications. DESs are typically nontoxic, highly pure, recyclable, biodegradable, and are suitable for the biological system. As a new type of green solvent, DESs received considerable attention for biocatalysis replacing traditional organic solvents. The long-term goal of this project is to develop green and biocompatible deep eutectic solvents contributing to the greening of industrial biocatalysis.

Enzymes perform various functions in biological systems. Their diverse works include transport, catalysis, defense, signaling, and energy conversion. Although most of the previous mechanistic enzymology studies conducted in aqueous solutions, enzyme prepared with water are often unstable that's why phosphate or other buffers are used. Instead of using water, organic solvents can be utilized to prepare enzyme solution, nonetheless, such nonaqueous media significantly lowered the enzyme activities. As an alternative solvent, DES showed a lot of promise to be next generation green solvents for biocatalysis. However, how deep eutectic solvents can affect the enzyme stability and activity are very limited.

In this summer project, students will learn how to synthesize and characterize deep eutectic solvents; and explore their impact on various model enzymes. The expected outcome of this project is to understand the stability and activity of the key enzymes in the presence of deep eutectic solvents. This research training will help students to gain experiences on performing interdisciplinary research, collecting, and analyzing computational and experimental data, interpreting, and presenting results, presenting in conference, writing, and publishing manuscripts.

Machine Learning in Minecraft

Faculty: Min Wang, Associate Professor of Mathematics

Machine learning (ML) has become a very active area in the last decade and has demonstrated great power and potential through successful applications in various fields. In this eight-week project, the student researchers will experience how to develop ML models in Minecraft. As one of the most popular and successful sandbox video games around the world, Minecraft provides players an almost unlimited ability to create a virtual world. We will leverage this feature to create a virtual environment that is similar to the real world, and build ML models to control the Minecraft bots to complete various missions in this environment.

The student researchers will first learn the necessary mathematical and statistical knowledge by completing a series of mini-projects. Then they will concentrate on a particular topic and investigate an open-ended problem under the PI's mentoring. The student researchers will be required to attend the project meetings regularly and to submit weekly reports on the progress made in the previous week. At the end of the eighth week, the students will deliver an oral presentation on their research outcomes and experience through this project. The student researchers will also be encouraged to present their work at the KSU Symposium of Student Scholars in the following fall semester. Additionally, each student researcher will submit a critical reflection assignment.

Through this project, the student researchers will

learn fundamental mathematical and statistical knowledge related to ML;
develop hands-on Python programming skills on data analytics and ML;
develop the ability to implement mathematical formula with Python;
develop the independent study ability leveraging various resources, e.g. KSU library, online databases, online tutorials, etc;
develop skills on public presentation and technical writing.

The statistical and programming skills can bedirectly applied tothe students' own majors. This project will also demonstrate the application and importance of mathematics in real life, hence help students understand the necessityof their future mathematical courses. This experience willbe a good reference for students' career planning.
All full time CSM faculty are eligible to participate and will receive summer pay for leading/co-leading projects. Funds for materials and supplies related to the work will be provided with discipline-specific considerations. Individuals or teams of faculty may apply. For more information, please see below.
Faculty interested in participating in this program must submit a plan (3-page limit) for an Experience that addresses the following criteria for review:

Faculty will need to download the application document at the link below and email their completed application to scimathdean@kennesaw.edu by November 30, 2022.

Application Review

The Dean will designate reviewers for this program. For tenure-track faculty, preference will be given to those who have not had extramural funding in the last five years. The review committee for student applicants shall consult with program faculty.