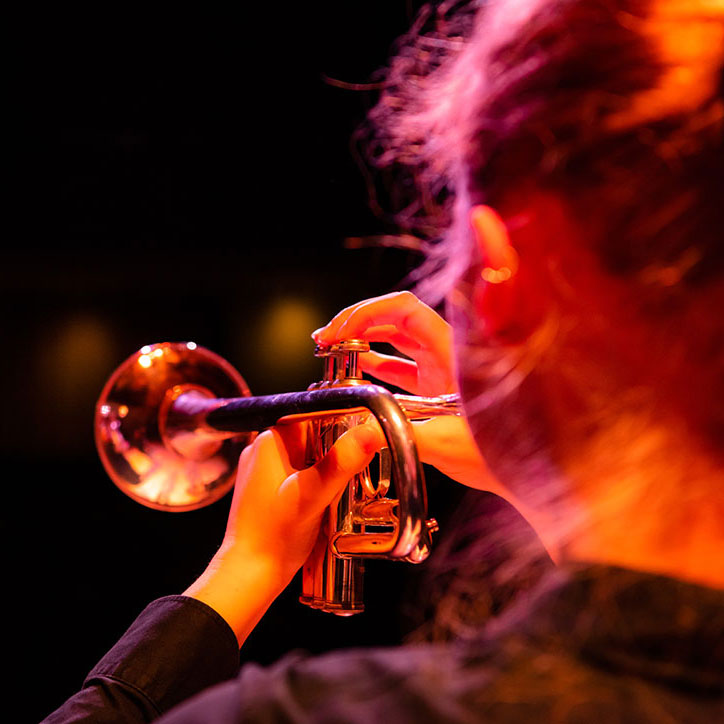 The Bailey School of Music at Kennesaw State University provides its students with an outstanding range of performance opportunities, a nurturing and challenging environment, and access to our excellent brass faculty.
As a brass music major, you will get to work one on one with our outstanding faculty each week. In addition to your weekly lessons, each of the instrumental areas has a devoted time to chamber ensembles, solo classes, masterclass, and various warm up class opportunities. You will have many ensembles playing opportunities with many concerts scheduled regularly both on and off campus. Our brass area students have travelled across the United States to perform at conferences, competitions, and ceremonies.
We regularly have world-class guest artists in to work with our students; for example, we have hosted Allen Vizzutti, Wycliffe Gordon, Melvin Jones, Paul Merkelo, Alex Lapins just to name a few! We regularly host large regional events like the Trumpet Festival of the Southeast, the Atlanta Horn Festival, and the Southeastern Regional Tuba and Euphonium Conference, and our annual Brass Blast.

We want you to be the best player, student, and person you can be! The Brass area at KSU is built to help you achieve your dreams. Whether you are majoring in Music Ed, Performance, Composition or just minoring in music we take the responsibility of your training seriously. Please feel free to reach out to Dr. Douglas Lindsey with more information about your specific program area.
For further information regarding the brass area at Kennesaw State University, please contact Doug Lindsey, Assistant Professor of Trumpet and Brass Area Coordinator. To schedule a campus visit, please call the Dr. Bobbie Bailey School of Music.
E-mail
Call