Fall 2023 Large Instrumental Ensemble Auditions
Symphony Orchestra
The Kennesaw State University Symphony Orchestra began in the Fall of 2004 and in 2010 expanded to include the KSU Philharmonic. The symphony orchestra performs a wide variety of repertoire from all time periods and styles. Students in the orchestra are made up of music majors and non-music majors with an interest in orchestral repertoire and come from distinguished high school programs and honor ensembles across the region.
All KSU School of Music instrumental students are required to complete an ensemble placement audition at the beginning of Fall Semester each academic year. Based on these auditions, students will be placed in either the Wind Ensemble/Symphony Orchestra rotation or the Wind Symphony/Philharmonic rotation.
Depending on openings in the Wind Ensemble/Symphony Orchestra rotation after Fall Semester, students may be selected to transfer from either the Wind Symphony or Philharmonic based on their performance in fall juries and recommendations by their studio teachers in consultation with the conductors of either the Wind Ensemble or Symphony Orchestra.
For more information, please contact:
Nathaniel F. Parker
E-MAIL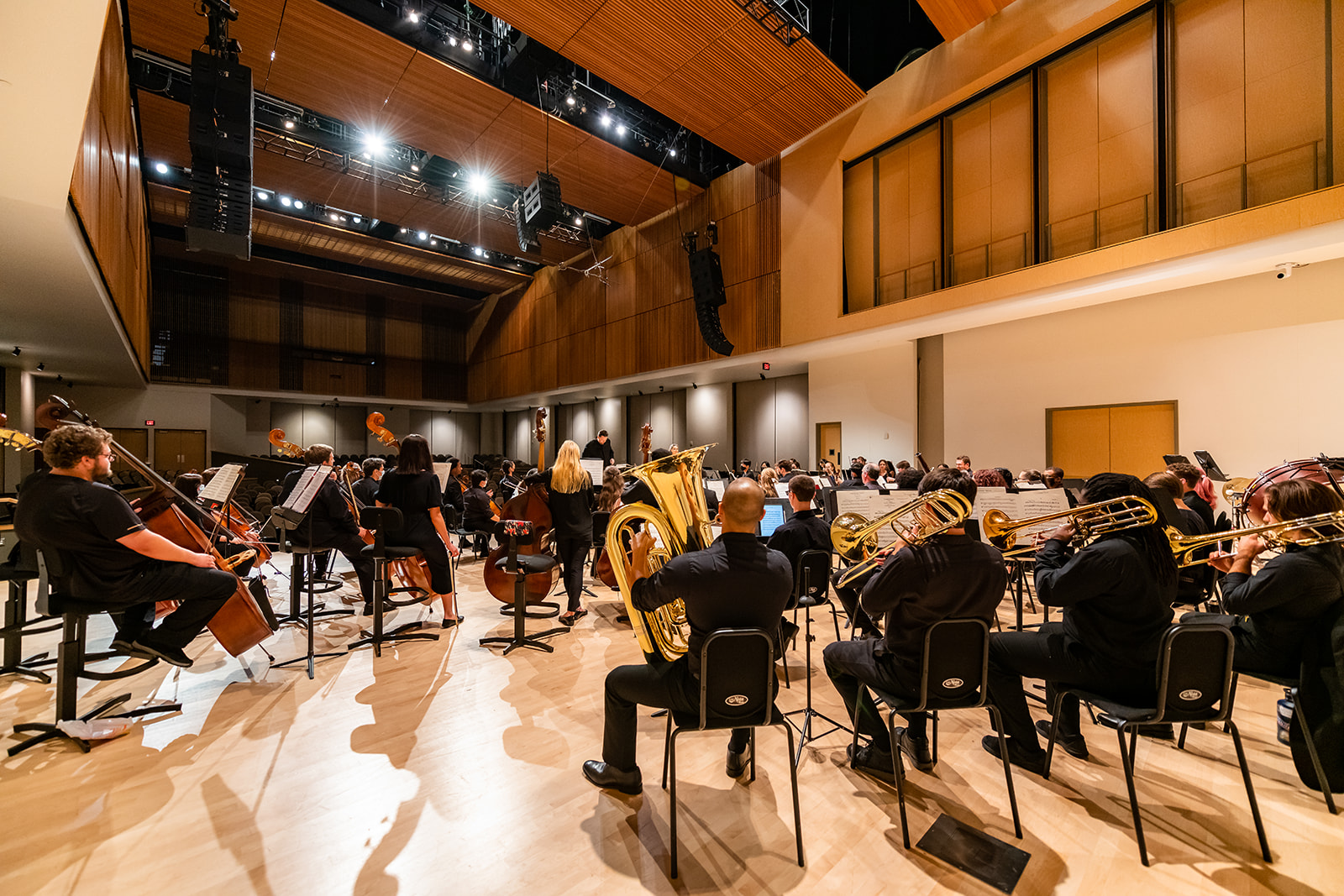 2009 KSU Orchestra was invited to perform at Georgia Music Educators Association In-Service Conference.
2010 Hosted and performed at the College Orchestra Directors Association National Conference.
2009 - 2010 Residency and performance with violinist David Perry
2011 KSU Orchestra completed a three-concert tour of Beijing and Xian, China.
2011 - 2012 Performance with KANSAS at the Cobb Energy Centre, and residencies with Romanian conductor, Ovidiu Balan and cellist Jesus Castro Balbi.
2012 - 2013 Two world premieres, the first University Orchestra performance of Peter Gabriel's New Blood, and a guest appearance by Alan Baer, principal tuba of the New York Philharmonic.

2013 - 2014 Season featured the Orchestra performing Illuminations, composed by KSU composer-in-residence Laurence Sherr.
2013 Orchestra performed a concerto with MacArthur Fellow and pianist Jeremy Denk.
2014 Orchestra will combine forces with the KSU Wind Ensemble to perform the music of The Who.
2014 Orchestra will perform in the Kennesaw State New Music Festival featuring world-renowned composer Chen Yi, who was commissioned to write a Violin Concertino celebrating the 10th Anniversary of Professor of Violin, Helen Kim, at KSU.
2014 In March, the Orchestra will present Brahms' Symphony No. 4 featuring KSU artist-in-residence in viola, Catherine Lynn, and guest conductor David Becker.