Acworth Police Department Holds Memorial Dedication Ceremony
KENNESAW, Ga. | Oct 13, 2020
KSU Master Craftsman Program students asked to design, install sculpture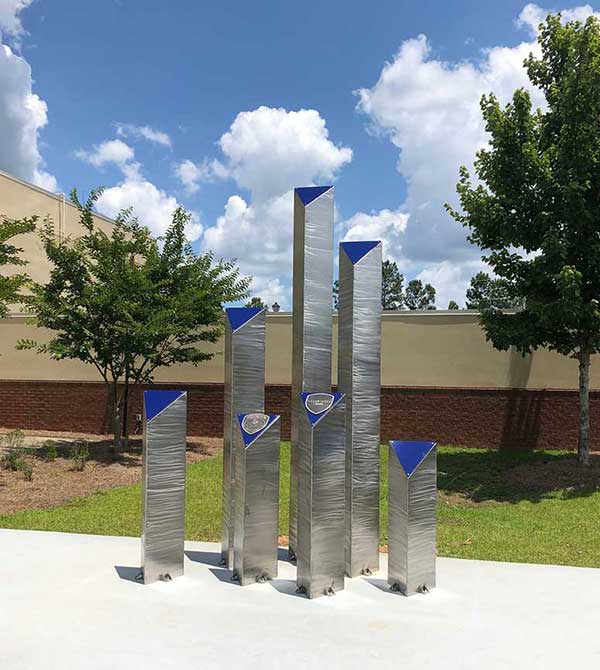 The Acworth Police Department held a public ceremony on October 6 to dedicate a memorial sculpture designed and crafted by students of Kennesaw State University's (KSU) Master Craftsman Program. The striking columns, in stainless steel featuring power-coated blue steel plates on each top, are located at the entrance to the Acworth Police Department (APD) at 4440 Acworth Industrial Drive in Acworth.
In January 2019, the APD approached the School of Art and Design's Master Craftsman Program (MCP) about producing a memorial sculpture to honor fallen officers. Led by MCP director and lecturer of sculpture Page Burch, the students pitched their design proposals to members of the APD in fall 2019. Student Emmy Keenan's design was chosen and production on the monument started in February 2020 but was delayed by the COVID-19 shutdown.

Completed and installed in June 2020, the memorial sculpture features seven stainless steel fabricated triangular columns, ranging in height from 3' to 9'. The columns are topped with powder-coated blue steel plates. Cast bronze plaques are housed on two central columns; one highlights the Acworth Police Department insignia, and the other is a nameplate for Officer William Luther Crowe, an officer who died in the line of duty in 1954.

The dedication ceremony included Presentation of the Colors by APD's Honor Guard, an invocation by APD's Chaplain Lee Gambrell, and a welcome from APD Chief G. Wayne Dennard. Dennard said, "We are honored that KSU partnered with us on this project, and thankful for their commitment to community. I am so proud of this finished product that will stand in perpetuity to honor the memory of the fallen. We are especially thankful to Emmy for her thoughtfulness of design, and Page for his work and guidance over the program that made this memorial possible."


Above, left to right: Tommy Allegood, Emmy Keenan, Page Burch, Roger Parker, and Wayne Dennard.
Additional speakers included Acworth Mayor Tommy Allegood; Roger Parker of Concerns of Police Survivors; and Burch and Keenan of KSU. The ceremony ended with a wreath laying by Parker and the APD Honor Guard as Sergeant Edwin Ivey of the Hiram Police Department played "Amazing Grace" on the bagpipes.
Master Craftsman students who worked on the project are Emmy Keenan, Carrie McDaniel, Alyssa Smith, Hanson Bassey, Megan D'errico, Kat Carbone, Kyra Grossett, Jordan Mills, Maggie Owen, and Erin Walsh. Students in the program are given an opportunity to work on public art projects from initial concept to finished product. The program delivers high-impact learning practices for students through real-world applications. By engaging with clients throughout the Atlanta area, students are actively involved in creative placemaking and place-keeping providing positive impact on the surrounding communities.
Recent projects for the City of Kennesaw include sculptural signage, a large-scale sundial, and a shade structure for Gateway Park, as well as custom cast iron manhole covers and benches for the Main Street corridor in downtown Kennesaw. Additionally, students have worked with the Southern Museum of Civil War and Locomotive History to produce sculptural benches and community iron pours, and also produced a sculptural signage installation for Town Center CID at Aviation Park. Learn more about the Master Craftsman Program.
--Kathie Beckett; images by Lisa Montcalm
Related Posts