In Memoriam: ArtsKSU Patron Emily Bourne Grigsby
KENNESAW, Ga. | Sep 18, 2020
High-spirited and adventurous, Ms. Grigsby led artistic life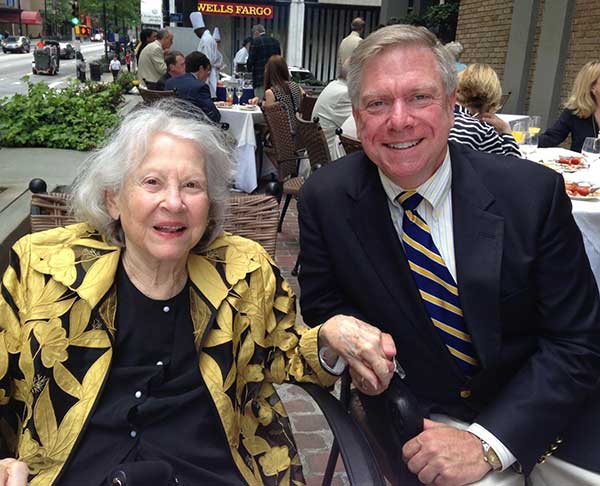 Kennesaw State University College of the Arts mourns the loss of donor and patron Ms. Emily Bourne Grigsby, who passed away September 17 at the age of 98. Ms. Grigsby, an opera singer and accomplished artist, was an avid supporter of the arts at KSU.
The arts have always been a major part of her life. She sang with the San Francisco Opera Company and performed in leading roles with Atlanta's Moonlight Opera Company. She served as president of the Atlanta Music Club and the Atlanta Woman's Club. She was an accomplished artist and many exhibitions of her work have been held across Georgia. She and Italian-born Georgia artist Athos Menaboni were friends and she donated several of his paintings to the School of Art and Design's Zuckerman Museum of Art (ZMA). She also endowed the Athos Menaboni Art Research Scholarship.
Ms. Grigsby and KSU alumnus Don Russell Clayton (B.S., '81, Social Science, Secondary Education) enjoyed a long friendship, tied by their mutual admiration of Menaboni. In 2007, Mr. Clayton donated an extensive collection of works by Menaboni to KSU. The Robert W. Woodruff Foundation gave KSU $1.3 million to establish a gallery to honor the life and art of Menaboni; the Don Russell Clayton Gallery is located in the ZMA. Mr. Clayton later endowed the Emily Bourne Grigsby Visual Arts Scholarship in Ms. Grigsby's honor, providing funds for a third or fourth-year College of the Arts students majoring in art with a concentration in painting and drawing.
Despite being an accomplished artist with many showings across Georgia, Ms. Grigsby nonetheless had numerous interests. She was a licensed interior decorator, a print and runway model, and a licensed multi-engine airplane pilot. She also studied belly dancing and took saxophone lessons. She was elected to Leadership America and, in 2004, was named a "Gracious Lady of Georgia." She was much admired for her achievements, talent, energy, intellect, and generosity. She was a major donor to Zoo Atlanta, where the peafowl are named "Emily" and "Grigsby," and she built a special aviary for the birds.
Born in Kentucky, Ms. Grigsby attended Vanderbilt University and then Mills College where she received a Bachelor of Arts degree. She also earned advanced degrees from the Georgia Institute of Technology (Master of Science) and the Woodrow Wilson College of Law (Juris Doctor). She later studied at the Atlanta College of the Arts.

--Kathie Beckett


Related Posts