Kennesaw State Department of Theatre and Performance Studies to present "Mother Road"
KENNESAW, Ga. | Feb 15, 2022
Modern epic inspired by "Grapes of Wrath" is an inventive tale of American identity and immigration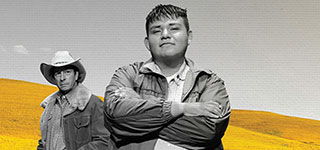 Kennesaw State University's Department of Theatre and Performance Studies (TPS) will present Mother Road Feb. 22-27 at the Onyx Theater on the Kennesaw Campus. Inspired by The Grapes of Wrath, this modern epic picks up generations later when William Joad must find a blood relative to inherit the family land in Oklahoma that was abandoned in Steinbeck's novel.
TPS senior Matthew White plays Joad, his first leading role in a TPS production. He admits he's never been a huge fan of The Grapes of Wrath but cautions patrons to not let similar feelings stop them from seeing Mother Road. He explains that the play is "more accessible ... since it is a modern continuation and recontextualization of The Grapes of Wrath. This production has humbled me by reminding me that I should not let my biases prematurely influence my opinions on art that I could very much appreciate."
Joad convinces the only surviving descendant, young Mexican American Martín Jodes, to travel with him from California, across the American heartland, to Oklahoma. During their journey, the men forge an unexpected bond as they grapple with the brutal past and strive for a hopeful future. Commissioned by the National Steinbeck Center and first read as part of the National Steinbeck Festival, Mother Road is an inventive and engrossing tale of American identity, immigration, and the ties that bind.
Guest director María Eugenia Arboleda hopes the students and audience members will have a "beautiful experience where they think about something they haven't thought before, like who we are. For example, I'm an American, but what does that really mean? It's a play that makes you question while touching you individually."
Timely and relevant to today's social issues, "Mother Road talks about inclusion and respect; about seeing, understanding, and respecting our differences, while reminding us about how much we are the same! It reminds us that we are all just one, we are just one body, and that's a beautiful thing," adds Arboleda.
The play features 15 student actors and plenty of music to entertain patrons but may also "surprise you when you think about your own thoughts and ideas. Patrons will enjoy the play as a piece of art that can then be reflected upon when they walk away," explains Arboleda.
White will always remember this last semester in his college career. "Being able to work with newer and younger cast and crew members is a humbling and reminiscent experience that brings me back to my first few shows at KSU and how magical they felt and seeing it all come full circle for me is very poetic. I hope that I've been able to create some of that magic for those involved with the show and I have had a positive impact on their college experiences," he shares.
Mother Road will be performed February 22-27 at the Onyx Theater on the Kennesaw campus; Tickets are $10 to $12 for this in-person event; buy your tickets online or call Patron Services at 470-578-6650. Please buy your tickets early as space is limited.
--Kathie Beckett
Related Posts