Mable House, Kennesaw State Present Small Metals Exhibition
KENNESAW, Ga. | Sep 15, 2020
"Threads of Connectivity" features work of KSU students and alumni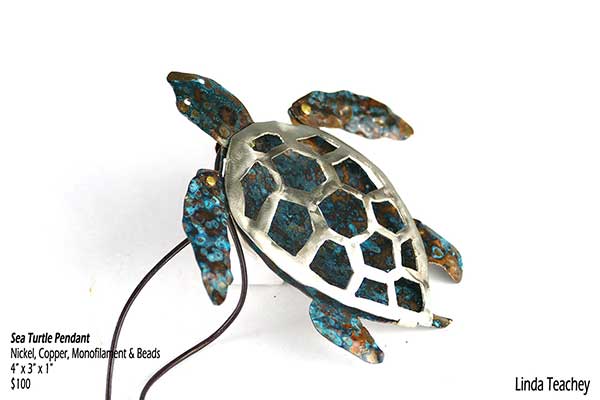 Cobb County's Mable House Arts Center and Kennesaw State University's School of Art and Design have teamed up to present "Threads of Connectivity," a small metals exhibition. The virtual exhibition features the work of over 20 students and alumni, led by Deborah Hutchinson, lecturer of Art, Small Metals Jewelry Design, and 3-D Design. The original plan was to host an in-person exhibition and reception, but the pandemic did not stop Hutchinson and Mable House Arts Center's Christopher McDoniel from forging ahead with the small metals exhibition, anyway.
A graduate of Kennesaw State University, McDoniel (BFA, Ceramics, 2015) is the recreation leader at Mable House Arts Center. He said, "We are all looking for a way to connect during this time, and art is a great way to do it, especially with an exhibition named 'Threads of Connectivity.' The name came from the fact that we were all connected through Debbie, and now we're even more connected through the pandemic."
He continued, "Honestly, not many people know about this art form; it is very unique. It is the first time, too, that we have ever held a 3D exhibition at the Mable House; although, unfortunately, while it's only 2D online, it's still a first for us." McDoniel took a class with Hutchinson while at KSU School of Art and Design, gaining exposure to small metals and the connectivity of the students and artists within the discipline.
Hutchinson added: "The name of the exhibition actually did come from the connection of all of these students. It's a very small inner circle in metals." In fact, one of her former students, Lucas Jankovsky, took a small metals class under Tom Muir (Bowling Green State University), who was a classmate of Hutchinson. Jankovsky sent several pieces to be displayed in "Threads of Connectivity." His porcelain, brass and copper piece, "River Reliquery," is featured on all exhibition materials.
"I hope that people will get a broader understanding of small metals and jewelry when they see the exhibition. They may better understand what is involved—such as non-precious, non-ferrous metals; brass, bronze, nickel silver, found objects and glass—and how artists use unusual materials to make jewelry and small metal objects," said Hutchinson. These unusual materials come together into beautiful pieces, many with their own individual narratives.
One such example in the exhibition is a circular, nickel box. Hutchinson explained: "When the lid is open, what's inside is a tongue. It is about the student's dreams: she is unable to scream in her dreams. She did an image of what vocal cords look like, then took that image and etched it into the metal and made the box."
Geo Sipp, director of the School of Art and Design, said, "Professor Debbie Hutchinson has done a remarkable job over the years with our Jewelry and Small Metals courses. I'm very excited to see our current students and alumni participate in this exhibition being held at the Mable House Arts Center. Collected together, it will be fascinating to see how students' work has been informed by Debbie's dedication to her teaching and to the art form."
The small metals exhibition includes rings, small boxes, and even a railroad car with a special inheritance tucked inside. Exhibiting artists include Teresa Buchanan, Taylor Chartrand, Kate Evans, Feral Fagiola, Brandon Huelskamp, Lucas Jankovsky, Brian Kinnett, Christopher McDoniel, Hannah Nelms, Virginia Moore, Audrey Morris, Mary Beck Pinkston, Tim Prevatt, Rainey Rawles, Rachel Ramsey, Dejahnae Saintilus, Alyssa Smith, Maddi Smith, Andrea Stocker, Linda Teachey, Mickey Valenti and Savannah Winn.
The virtual exhibition will run from September 17 to October 31; View the exhibition here and learn more about Mable House Arts Center.

--Kathie Beckett
###
About Mable House Arts Center: The Mable House Arts Center fosters the arts in Cobb County and is full of exciting events all year round. The center houses a sizable art gallery that rotates exhibits, offers a variety of art classes for adults and children, seasonal art camps, theatre productions, and meeting space for non-profit arts related organizations. The Mable House Arts Center is currently celebrating its 21st anniversary as an arts anchor within Cobb County and the Northwestern metro Atlanta community.
About Kennesaw State University: A leader in innovative teaching and learning, Kennesaw State University offers more than 150 undergraduate, graduate and doctoral degrees to its approximately 40,900 students. With 13 colleges on two metro Atlanta campuses, Kennesaw State is a member of the University System of Georgia and the third-largest university in the state. The university's vibrant campus culture, diverse population, strong global ties and entrepreneurial spirit draw students from throughout the region and from 92 countries across the globe. Kennesaw State is a Carnegie-designated doctoral research institution (R2), placing it among an elite group of only 6 percent of U.S. colleges and universities with an R1 or R2 status, and one of the 50 largest public institutions in the country. For more information, visit kennesaw.edu. For more information on the College of the Arts, please visit arts.kennesaw.edu.


Related Posts