The College of Science and Mathematics (CSM) at Kennesaw State University (KSU) is a diverse group of scholars who promote an inclusive environment and collaborate to produce excellence in teaching and mentorship, lead across campus and are successful in research involving undergraduate and/or graduate students. Members of our community will foster a supportive, welcoming environment that ensures inclusive excellence in student training and in faculty and staff development. With KSU's growing student population from traditionally underserved communities, CSM has a responsibility to ensure all of our students develop into excellent scholars and practitioners. CSM faculty and staff will, by our deeds, demonstrate our commitment to and support of inclusive practices in student learning.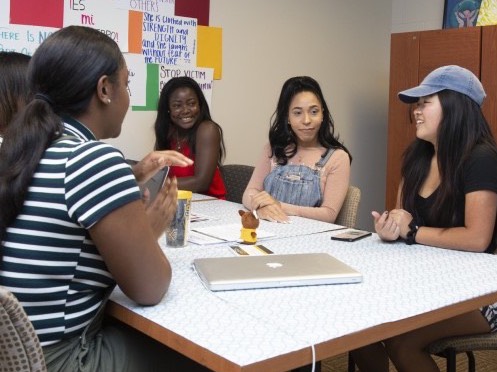 We recognize that inclusive excellence is a journey, not a destination and acknowledge our historical social inequities while working to change the future. Our focus for change involves three significant pillars of work:
We are working to

change the policies and practices

within the college that have historically disadvantaged members from underserved communities, whether race, ethnicity, or gender-based. We are working on hiring practices, promotion and tenure processes, committee structures, administrative structures, and all the myriad of things that govern how the college does business.
We are working to

change the ways that we as faculty and staff interact

with and support each other and accomplish the mission of the college. With workshops and mentoring, we are targeting human behaviors that can isolate individuals, especially members from traditionally underserved communities, and working to change them into welcoming and supportive environments where everyone feels like they belong.
We are working to

change the ways that faculty, staff, and students support the educational mission

and increase student success for everyone. Faculty Learning Communities help educate faculty on best practices in inclusive teaching, disciplinary seminars help bring evidence-based teaching to each department, curriculum reform help to focus attention on the motivation of students in our degrees, and a host of faculty and student workshops and activities help everyone think differently about the way we interact with each other and promote a more welcoming environment for all of our students.
The heart of the CSM is striving for a more inclusive atmosphere in everything we are doing. We have been lucky to be supported (since 2018) in this endeavor by an Inclusive Excellence grant from the Howard Hughes Medical Institute ($1 million dollars for 5 years). However, we continue to institutionalize much of our work and look for new partners in our inclusive pathway.
Diversity and inclusion initiatives within CSM
Dean Scholars Program
Inclusion and Diversity Committee
Student workshops on stereotype threat and microaggressions
Faculty workshops on implicit bias, stereotypes, stereotype threat, and systemic inequities
Faculty Learning Communities
PSLSAMP