The Assessment Is A 6 STEP Process
STEP 1: Register in the ALEKS placement system. Receive the instructions document from your major's advisor. Look up your major-specific advisor here »
STEP 2: Complete the initial unproctored Placement Assessment.
STEP 3: Choose the Prep and Learning Module to work in.
STEP 4: Work in the Prep and Learning Modules for a minimum of 5 hours over at least a 48-hour period. Learn more about the ALEKS Prep and Learning Modules »
STEP 5: Contact Ken Keating from your KSU student email for proctored testing instructions.
STEP 6: Complete a proctored assessment. All students must have a webcam and the Respondus LockDown Browser and Monitor software to take a proctored test online.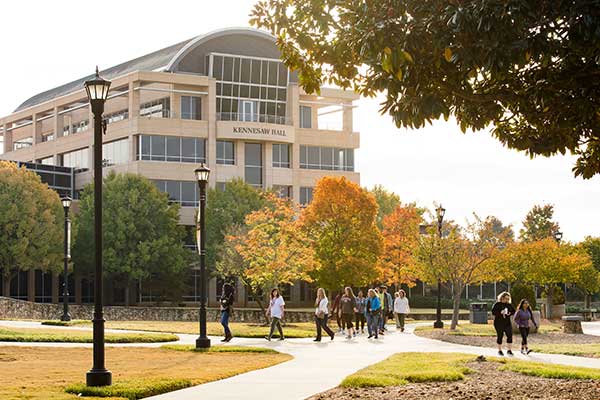 Questions? Contact your Advisor or the College of Science and Mathematics (CSM) Advising Center for help.
Learn More
Frequently Asked Questions (FAQ)
What is the format of the questions?

Questions are predominantly short-answer. ALEKS uses an open-response format and requires you to work out solutions with a paper and pencil, and then enter them into ALEKS. Be sure to have scratch paper with you.

ALEKS will provide an on-screen calculator if you need one to complete a particular problem. Otherwise, you may not use a calculator.

May I use any other resources?

You may only use a pen or pencil, paper, and the resources provided within ALEKS. You should not receive assistance from friends, family, other websites, textbooks, or any other resource not provided by ALEKS. Using outside help and/or resources is a violation of Kennesaw State University's Code of Academic Integrity and can possibly lead to improper placement.

How many questions will there be?

Students complete a maximum of 30 questions. Questions are predominantly short-answer.

Can I review a question after I have answered it?

No. Because ALEKS is adaptive, once you submit an answer, you cannot change it. Be sure to check your answers carefully before submitting your response.

What if there are questions I cannot answer?

It is likely that you will be asked questions on material you have not yet learned. On such questions, it is appropriate to answer, "I don't know". On any question that you have familiarity with, however, it is important to do your best. "I don't know" is interpreted to mean that you do not know how to solve the topic, and this will be reflected in the results.

Are placement assessments timed?

The initial unproctored assessment has a time limit of 48 hours. Proctored assessments have a time limit of 3 hours.

What happens if I do not complete a placement assessment in the allotted time?

If you do not complete the placement assessment within the allotted time, your exam will be submitted and will be given a score that is approximately the same as if you had chosen "I don't know" for the remaining questions.

How long will it take to complete?

Be sure you are ready to take your assessment prior to logging on. Set aside at least a 3-hour block of time in which to complete the assessment. The length of the assessment varies by student, but there will be a maximum of 30 questions.

What if my computer crashes while taking the assessment?

If you have computer problems, you should be able to log back into the ALEKS assessment and resume testing. When you log on again, ALEKS will bring you to the point at which you left off.

I am ready to start my assessment. How do I begin?

Students must speak to their major-specific advisor in order to gain access to the ALEKS code and instructions for starting an account through the ALEKS webpage. Use your KSU email (...@students.kennesaw.edu) when creating the account. Once you've completed the unproctored assessment and worked in the learning modules, contact Ken Keating from your KSU student email for proctored testing instructions.

E-mail