KSU School of Music to present "Fresh Air Fridays"
KENNESAW, Ga. | Sep 1, 2020
Faculty and student performances streamed live for free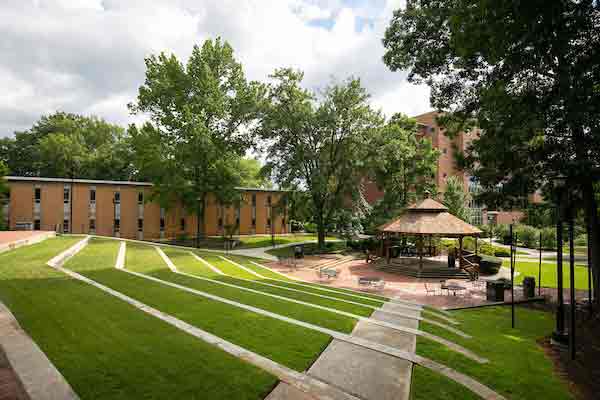 The School of Music at Kennesaw State University will be offering "Fresh Air Fridays" from 12:30 to 1 p.m., beginning September 11 and running through October 30. Faculty and students will be performing on the stage of the outdoor Legacy Gazebo on the Kennesaw campus, and the event will be streamed live via Facebook and also on arts.kennesaw.edu. There is no charge to watch the performances.
Dr. Leslie J. Blackwell, interim director of the School of Music, said, "It is our pleasure to bring live music to our community, both on-campus and off-campus. 'Fresh Air Fridays' is a great way for School of Music faculty and students to give back to the community and spread a little bit of joy through music."
Ivan Pulinkala, dean of the College of the Arts, said, "'Fresh Air Fridays' is a great example of finding innovative ways to present our season as these concerts will stream free on both Facebook Live and on our website. We believe that these virtual modalities will further our community connections while preserving our artistic and educational mission."
The series begins with the energetic sounds of the Faculty Jazz Duo of Sam Skelton and Trey Wright, followed by the toe-tapping beat of the Percussion Ensemble with John Lawless. The inspirational Brass Ensemble with Doug Lindsey will close out September.
October begins with an impressive group: the Cooke String Quartet with world-renowned violinist Helen Kim and Charae Krueger, artist-in-residence in cello. The second week of October will feature the lively sounds of the Student Jazz Trio, followed by "The Marching Owls" performing on the Campus Green, rousing the team spirit at KSU. Next, the Woodwind Ensembles with John Warren bring their diverse repertoire encompassing large works for band, wind ensemble repertoire, and chamber music. Finally, the Percussion Ensemble with John Lawless will get you in the groove as they close out the series with a bang.
Please visit MusicKSU.com to learn more and see the Fall 2020 complete schedule.
--Kathie Beckett
Related Posts