Marching Owls Alumni Society Created at Kennesaw State University
KENNESAW, Ga. | Sep 7, 2021
Young alumni connect to raise scholarship funds for marching band students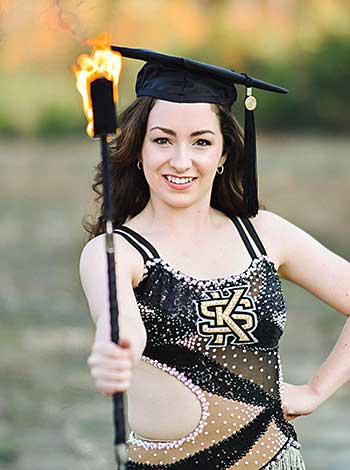 To say that the students of "The Marching Owls" are a close-knit bunch may be an understatement. So, it comes as no surprise that alumni of KSU's Marching Band (KSUMB) have banded together to create the Marching Owls Alumni Society, or MOAS.
Debra Traficante, Associate Director of Bands/Director of Athletic Bands, has guided and directed all aspects of the "The Marching Owls" since its premiere in Fall 2015. She says that belonging to KSUMB is a unique experience that brings students together, forming deep, lifelong connections.
Marielle Matthews, the newly elected president of MOAS, served as the featured twirler for KSUMB in her senior year and then coached twirling the following three years.
A music education major, Matthews served as Secretary of the first alumna organization built on the work of fellow alumna Sharlande Nicolas, who led the Alumni Board in 2018-2019 as its first President. Together with Vice President Briana Blanchard and Treasurer Nilia Ford, the Board organized the inaugural Alumni Band Day in 2018.
In Spring 2021, MOAS became an official alumni society of Kennesaw State. Currently, the Board is busy planning and organizing events, including Alumni Band Day, for KSU's 2021 Homecoming, scheduled for October 16th. The current Board includes President Marielle Matthews (2018), Vice President Jacob Morgan (2018), Treasurer Brooks Payne (2018), and Secretary Rachel Ray (2020).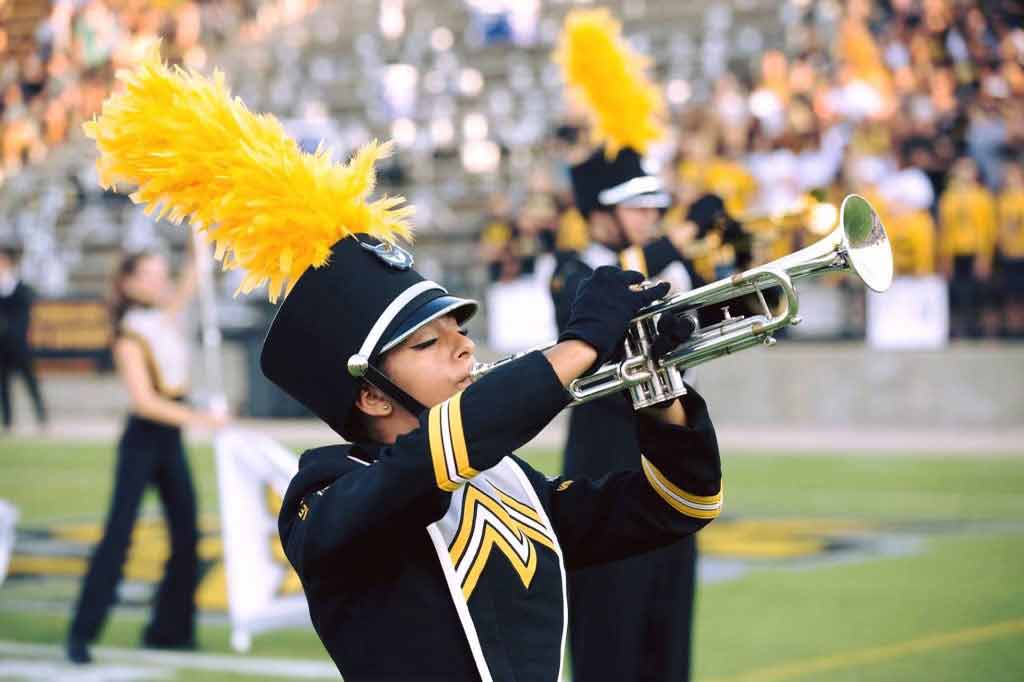 "Alumni society members will enjoy all of the experiences of KSU's Homecoming; really, it's a full weekend experience. On Friday night, members are invited to watch 'The Marching Owls' rehearse, then join in and play the KSU Owl's 'Fight Song,' and practice marching on and off the field. Then, we will gather for an alumni reception at a local restaurant," says Marielle, now a choral teacher at Creekland Middle School in Cherokee County.
On Saturday, October 16, MOAS members may join in on the entire day of Homecoming festivities, including a full day of rehearsal, catered lunch, and Homecoming parade, all before marching to the stadium to support the athletes on the field.
The Executive Board thoughtfully updated the bylaws to not only include alumni of KSUMB, but also alumni who would have been a part of the marching band had it been in existence while they were at KSU. Alumni who did not march at least a full season may still participate in all activities, except for marching on the field.
Marielle loved being on the field; as a freshman, she was on the KSU Dance team, which was cut from KSU after her first year. "I love game day, I love cheering on the team, so I searched for 'how can I be on the field?' I loved the performance aspect, and I knew we were getting a marching band, so I decided to learn to twirl," she explains. After hours and hours of lessons with professional twirlers and weeks of practice, Marielle was asked to be the featured twirler during her senior year, in the KSU Owls' third season.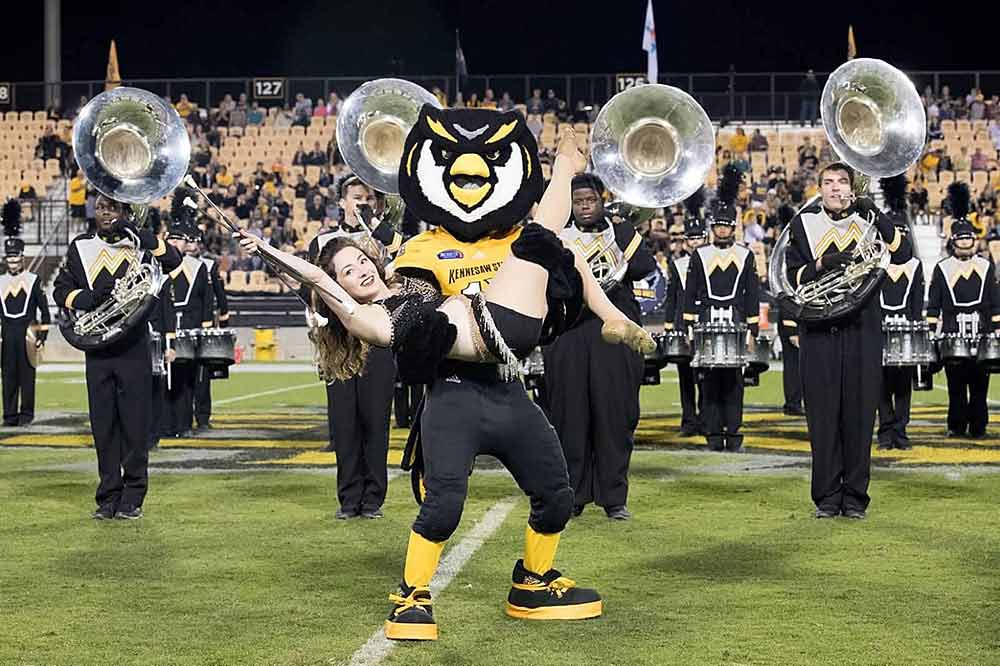 Formed when KSU Football launched seven years ago, KSUMB now counts hundreds of musicians who have performed in its ranks. Perhaps surprisingly, most of them are not music majors or minors.
Debra says, "You would be amazed as how many engineers are in this band!" Marielle adds, "The KSU merger with Southern Polytechnic University brought a whole new kind of student, as we saw textile and engineering students, for example, and that helped the Band grow quite a bit."
The fledgling MOAS hopes to create a "create scholarships in the future and build a home for alumni to be able to come back to, to come back to their family," explains Debra. "These students spend all game days together, eat meals and rehearse together, and spend hours traveling together. The bonds they create are rock solid; it's a unique college experience."
Marielle encourages alumni to join the MOAS for the fellowship and to support current and future students. "While marching on the field is a great incentive to join, also think about how much you would have valued getting a scholarship. I hope that our alumni will contribute to the legacy of 'The Marching Owls' to support students, while staying connected with each other."
Debra adds, "These are not just acquaintances, they are really, truly friends, and will be their entire lives."
Watch "The Marching Owls" perform during a special 9/11 Commemoration Event on the KSU Campus Green at 12:00 noon on Friday, September 10. Next, catch them on the field as the KSU Owls Football team takes on Georgia Tech at noon on Saturday, September 11. The KSUMB will join the Georgia Tech marching band to play "Amazing Grace" and "America the Beautiful" to commemorate the 20th year of 9/11. Finally, check out this story about the Marching Owls' return to the field.
To join the Marching Owls Alumni Society (MOAS), please visit kennesaw.edu/alumni. To learn more about "The Marching Owls," please visit marchingowls.kennesaw.edu.
--Kathie Beckett
Related Posts