Spring Arts Festival Blooms Again at Kennesaw State University
KENNESAW, Ga. | Feb 22, 2022
Annual event celebrating the arts to be held in person, in a new location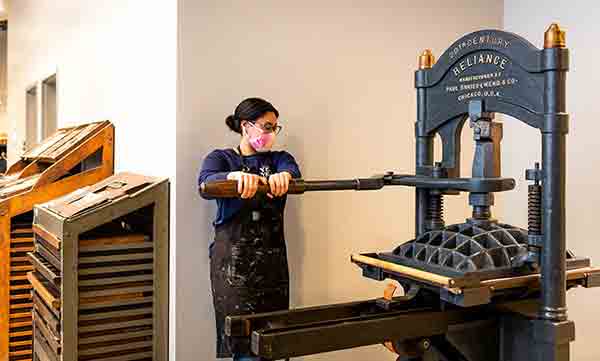 Kennesaw State University's School of Art and Design is excited to bring back the Spring Arts Festival on Saturday, March 19, 2022. The free, in-person Festival is family-friendly, with activities for almost all ages. It will be held from 11 a.m. to 3 p.m. at the new Chastain Pointe Studios, across from the main campus in Kennesaw.
"We can't wait to welcome everyone back to our annual Spring Arts Festival," says Prof. Craig Brasco, who is helping to organize the popular event. "We hope it will be a beautiful spring day and that everyone will come out and celebrate the visual arts at KSU." The event will be held rain or shine, as many of the activities are inside the new Chastain Pointe Studios, housing drawing, painting, and printmaking.
Children will have the chance to create a special piece of art on a real press. Prof. Cynthia Lollis says, "Visitors may take home a two-color, printed keepsake inspired by spring." The printmaking department will also present a letterpress printing demonstration showing how books and newspapers were published for 500 years. The demonstration will showcase both handset typography and a contemporary, photo-based process.
If you like fashion, bring your phone and take photos of this year's contemporary fashion show featuring Prof. Keely Clay's students in Apparel and Textile Technology. She says, "Our students will take old garments and refashion them into new ones. Also, we have two students who will be showing their own designed creations on live models." The fashion show will be ongoing throughout the day.
Fabric plays a central role in creating soft sculptures that are sure to be a hit with all ages. Prof. Amanda Britton is leading a soft sculpture booth where mini plushies may be created. Prof. Britton is collaborating with the Zuckerman Museum of Art (ZMA), a unit of the School of Art and Design. She says, "The ZMA has a few soft sculpture installation pieces on exhibit now by Jamele Wright, Sr., and Kayte Terry. We hope people at the Spring Arts Festival will be inspired by these artists as they create their own mini soft sculptures."
Festivalgoers who attended in past years may remember the popular Chalk the ZMA event. This year, professional chalk artists Zach Herndon and Jessi Queen return to liven up the parking lot behind the Chastain Pointe Studios. Come watch their artistic creations come to life in colorful chalk.
It wouldn't be a festival without a glass artisan creating beautiful pieces in front of an amazed crowd. This year's special guest is Kelly Robertson of Cavalry Glassblowing Studios in Lawrenceville, Ga.
Attendees will enjoy crafts such as keychain-making with quick set resin (and a little glitter), plus painting and drawing, and more. Artists from kindergarten to 12th grade are encouraged to submit artwork for the Pin-up Show. Awards will be given in each category; please submit your artwork no later than 1 p.m. on Saturday.
Finally, student groups will be offering various works for sale in the popular Artists' Market. You won't go hungry, either, as there will be food vendors on site.
The 2022 Spring Arts Festival will be held in person on Saturday, March 19, from 11 a.m. to 3 p.m. at KSU's Chastain Pointe 115 Studios, 1200 Chastain Road, Suite 115, Kennesaw, GA 30144. The event is free and open to the public. For the latest updates, maps, and schedules, please visit KSUArtsFestival.com.
--Kathie Beckett
Related Posts