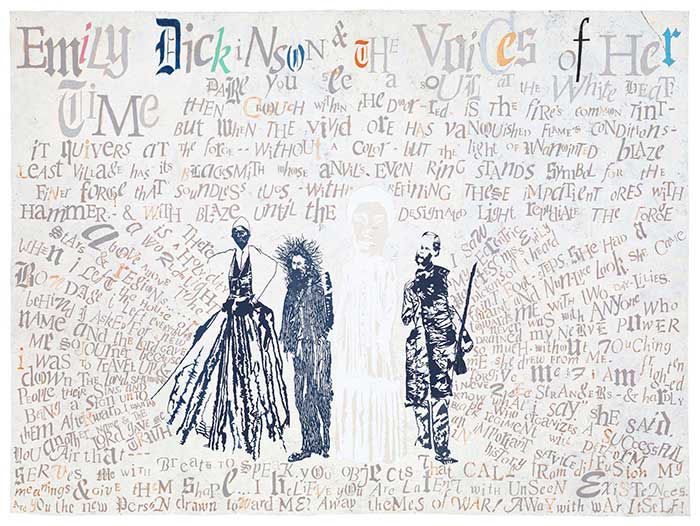 Lesley Dill
Wilderness: Light Sizzles Around Me
is organized by the Figge Art Museum, Davenport, Iowa
and made possible by
Humanities Iowa and the National Endowment for the Humanities
Mortin Gallery and Don Russell Clayton Gallery
March 14  – May 14, 2023
Opening Reception:
Thursday, March 16, 5:00 pm - 7:30 pm
Wilderness, Light Sizzles Around Me features a uniquely inspired group of sculptures and two-dimensional works more than a decade in the making. The exhibition represents Dill's ongoing investigation into the significant voices and personas of America's past. For Dill, the "American" voice grew from early America's obsessions with divinity and deviltry, on fears of the wilderness "out there" and the wilderness inside us. The extremes of both shaped history and gave pulse and heat to the words of activists like John Brown, Sojourner Truth, Mother Ann Lee, and Dred Scott. Dill writes, "These personas and their times stir something deep in my own family history and sense of self. I am compelled to this restrictive time-period of limited access to a diversity of written word, and the bravery of these figures' response." The book Lesley Dill: Wilderness, Light Sizzles Around Me by Scheidegger & Spiess, Zurich is available in conjunction with the exhibition and features essays by Nancy Princenthal, Andrew Wallace and others. This exhibition is organized by the Figge Art Museum, Davenport, Iowa. 
 
Lesley Dill has had over one hundred solo exhibitions. Her artworks are in the collections of many major museums, including the Metropolitan Museum of Art, the Museum of Modern Art New York, and the Whitney Museum of American Art. In 2017 she was named a fellow of The John Simon Guggenheim Foundation and is a Joan Mitchell Foundation Creating A Living Legacy artist and grant recipient. Her opera, Divide Light, based on the poems of Emily Dickinson, was performed in San Jose in 2008. In 2018 the opera was re-staged in New York City and captured in an award-winning film by Ed Robbins. Dill was the recipient of the Emily Dickinson Museum's 2019 'Tell it Slant' Award. In her work, Dill transforms the emotions of the writings of Emily Dickinson, Salvador Espriu, Tom Sleigh, Franz Kafka, and Rainer Maria Rilke, among others, into works of paper, wire, horsehair, foil, bronze and music—works that awaken the viewer to the physical intimacy and power of language itself. Dill's exhibition Wilderness: Light Sizzles Around Me, organized by the Figge Art Museum, is currently traveling to 7 venues through Winter of 2023. The exhibition amplifies voices of the North American past as they wrestle with divinity, deviltry, and freedom, including Mother Ann Lee, Black Hawk, Sojourner Truth, John Brown, Emily Dickinson, Horace Pippin, and Sister Gertrude Morgan. Dill is represented by Nohra Haime Gallery in New York and Arthur Roger Gallery in New Orleans. She lives and works in Brooklyn, New York.  This exhibition is Organized by the Figge Art Museum, Davenport, Iowa, and was made possible by Humanities Iowa and the National Endowment for the Humanities.
Image Credit: Lesley Dill, Emily Dickinson and the Voices of Her Time, 2016. Oil paint, hand-cut paper and thread on fabric-backed acrylic painted paper. Courtesy of the Lesley Dill Studio, Brooklyn, NY.
RSVP for OPENING RECEPTION
UPCOMING EXHIBITIONS IN THE FINE ARTS GALLERY