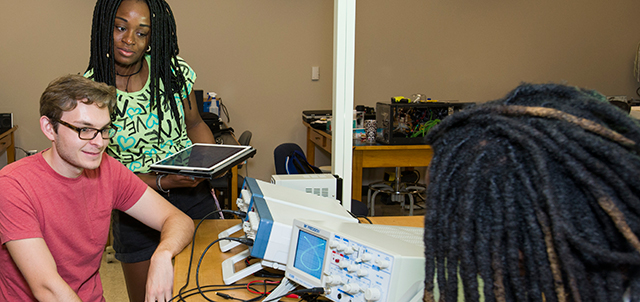 Whether students are new to CSM or KSU, CSM learning communities are designed to provide a community of support that brings together different members of the College: students, advisors, faculty, and administrators. Each learning community consists of 20-25 students who co-enroll in two or more courses that are linked together with a common theme. CSM learning communities are offered on both the Kennesaw and the Marietta campus and the enrollment is limited to students with a major in biology, biochemistry, chemistry, environmental science, mathematics, or physics.
Through participating in the CSM learning communities, students develop important skills for excelling in science and mathematics-based careers. Students develop growth mindsets through metacognitive exploration, reflection, and guided inquiry; apply appropriate social methods to build scientific and mathematical collaborations; and learn to promote an inclusive environment that expands access for and values the contributions of all students.
Each of our themed learning communities (undergraduate research, service learning, career exploration) includes a first-year seminar course (SCM2000) and a mathematics course or science course. For more information about these courses or academic advising, please contact your advisor in the CSM Advising Center.