KSU Free Passport Initiative
Kennesaw State University, along with five other prominent educational institutions in the Atlanta area, has received a sponsorship from Delta Air Lines as part of a multi-university free passport program to help increase access to global education experiences and foster international perspectives among students.  The Atlanta Global Research and Education Collaborative (AGREC), consisting of Emory University, Georgia State University, Georgia Institute of Technology, Agnes Scott College, Spelman College, and Kennesaw State University, is the recipient of this funding, which will cover 50 passports at each institution for the 2023-24 academic year. Read more about the sponsorship HERE.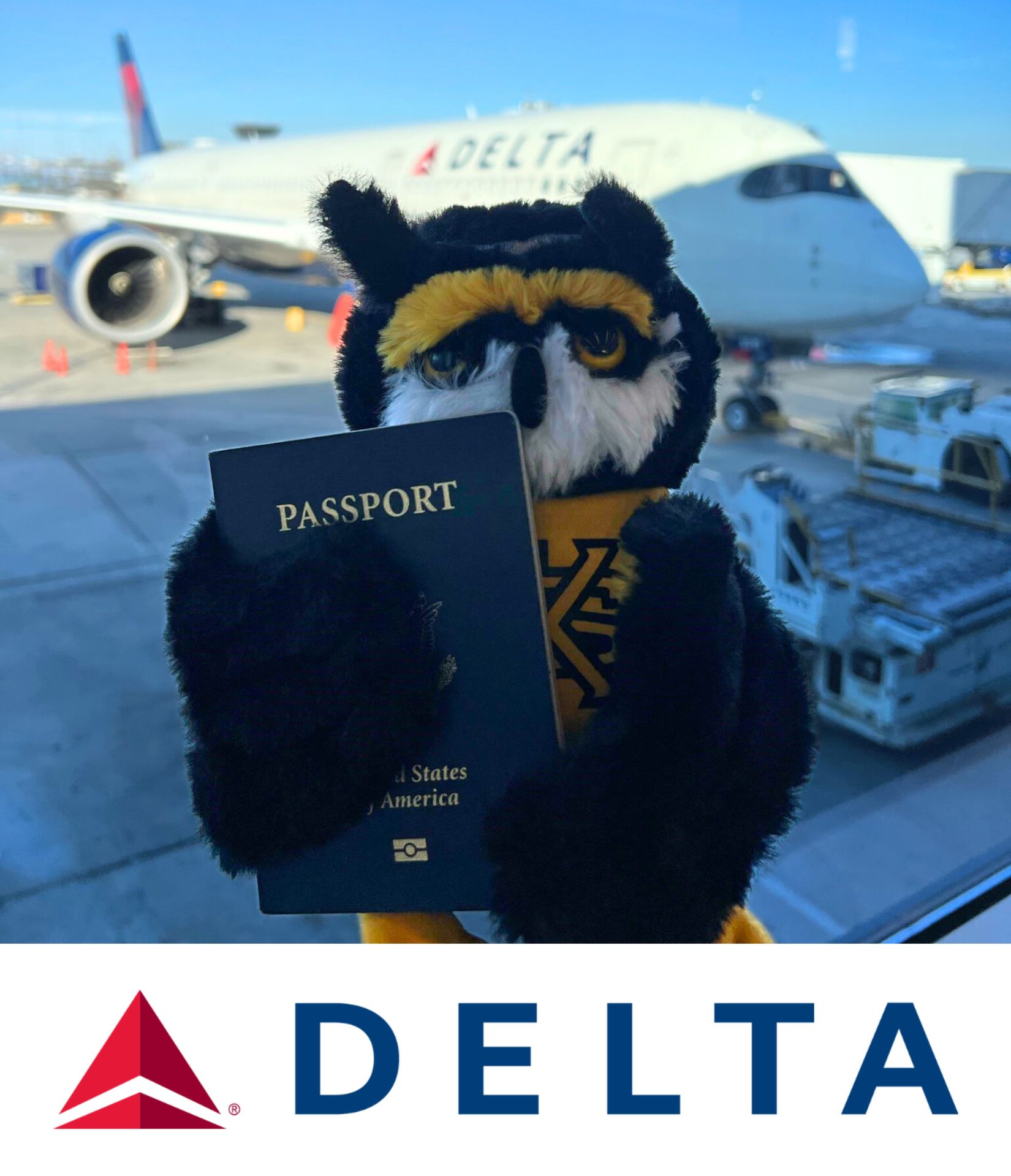 The Free Passport Initiative is open to current Kennesaw State University students who are:
Enrolled, degree-seeking (Undergraduate or Graduate)
Demonstrate financial need
First-time US passport applicants
Preference to students applying to participate in a KSU Education Abroad program
Accepted applicants will be scheduled for a dedicated appointment for Passport Day at KSU on November 16th. Please be sure to complete and bring all items listed on the checklist below.
Fall 2023 Applications Open: September 22
Application Deadline: October 24
Fall 2023 Passport Day: November 16
Apply Now
Faculty, staff, and students who do not qualify for the free passport initiative will be invited to apply for Passport Day in Spring 2024, and if accepted are required to pay the associated passport fees. Note: Appointment priority will be given to students.
Send all inquiries to educationabroad@kennesaw.edu. For more passport application information visit: travel.state.gov/passports or call (877) 487-2778.

Passport Day at KSU
Fall 2023: November 16th (Free Passport Initiative Students ONLY)
Spring 2024: TBD (Open to ALL)
Passport Application Checklist
You're on your way to becoming an international Owl! Get ready for an upcoming event to make an appointment to apply for your passport right on campus. Make sure you have the following items prepared ahead of time and dodge any common mistakes to ensure a smooth process.
You will need:
Professional Passport Photo

These can be done at the KSU Student Center (self-service photo booth), Walgreens, or CVS.

Make sure the photo is clear - no earrings, glasses, bows, and has a white background.

Starter checks (bank checks that do not have a name or address) are not accepted.

Regular Service (7-10 week processing time)

$130 (book only)
$160 (book & card)
PLUS $35 processing fee (cash only)

Expedited Service (4-6 week processing time)

$208.32 (book only)
$238.32 (book & card)
PLUS $60 processing fee (cash only)

Valid ID (Driver's License)

A front and back copy of the ID (one page) will be required.

Certified Copy of Birth Certificate or Naturalization

The clerks will also need to make a copy of the birth certificate (front and back if there is information on the back).

If there is something on the back, will need to be two pages rather than one.

Original Name Change Documentation (If Applicable)

If you are seeking a name change on your passport, you must provide the original documentation.
Most Common Mistakes
If you choose to hand-fill the application rather than online, it cannot be completed in blue ink.

The application says Last Name (at Parent's Birth) - this is the #1 mistake.

This is someone that will never be traveling with you. If something were to happen to the two of you overseas, there would be no one to contact in the States.

Fill out the entire application, especially your complete SSN (Social Security Number) and primary phone number.
For more passport application information visit: travel.state.gov/passports or call (877) 487-2778.