The Market for Ideas Reading Groups provide a forum for students to engage with key texts in economics and related disciplines with a cohort of their peers under the guidance of a Bagwell Center affiliated faculty member. Each reading group will meet for a total of five hours per semester to discuss readings assigned by the faculty member. Student participants will receive the assigned reading materials, plus a $200 honorarium for each reading group completed (each individual student can potentially participate in up to 4 reading groups).
REQUIREMENTS:
Remain enrolled as a full-time student in good standing at Kennesaw State University throughout their participation in the Market for Ideas Reading Groups.
Attend and actively participate in all scheduled programming.
Arrive on time and prepared for each meeting, having carefully read any assigned readings in advance.
Participants are also encouraged to attend Bagwell Center events and to build relationships with other participants and Bagwell Center faculty.
The deadline to apply is January 19th, 2024.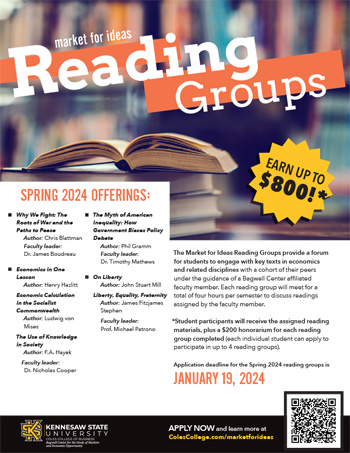 Questions?