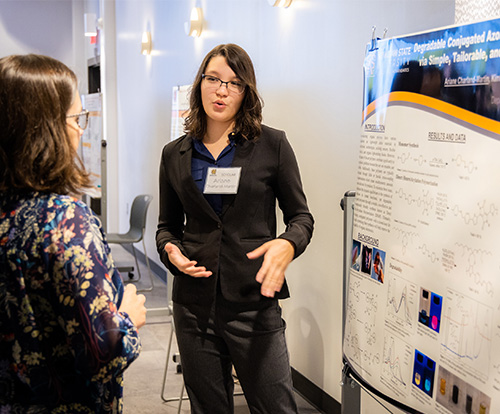 The culminating achievement of Honors Research Scholars and Honors in the Major – Pathway I students at KSU is the completion of an Honors Capstone. Depending on the Honors student's interests and goals, the Capstone might take the form of a research, service, or creative project. The Honors Capstone enables Honors students to explore in depth a topic or question related to their chosen disciplines.
Some majors require a Capstone or Senior Project. In these cases, Honors students are advised to work with their faculty mentors to add an Honors component to their Capstone or Senior Project. This can be done by working with the Honors Capstone Coordinator.
At least a semester before graduation, Honors students should register for HON 4497 in which they develop capstone proposals with the support of a faculty supervisor in their discipline, an Honors supervisor, and the designated faculty departmental liaison in their majors.
Honors students continue and complete the Capstone Project as they take HON 4499 their senior year. Students must earn an A or B in HON 4499 to successfully complete the Honors Capstone requirement.
The Honors Capstone is designed to set KSU Honors students apart in job interviews and applications for graduate school.
Support is available for presentation of capstone projects at professional conferences.
To apply for funding support, please fill out the Funding Request form.
Once the form is completed with the appropriate signatures, please submit.

KSU Journey Honors College annually recognizes the top capstone thesis or applied project from each campus with an award at the Honors Graduation Celebration each spring.
List of Capstones by Majors

The following list is provided to help students in the early stages of capstone development to brainstorm for appropriate topics. Select your major.

Major- Specific Information

More information will be added here as we collect it.

Majors with a Capstone

If your major requires a Capstone or Senior Project, you can work with your faculty mentor to add an Honors component to the Capstone. Honors doesn't intend for you to complete two Capstones; we would recommend that you instead deepen or extend the Capstone in your major.
Some of these majors have a two-course Capstone sequence, such as the B.S. in Mechanical Engineering: ME 4201 Senior Design I and ME 4202 Senior Design II. In such cases, students register for HON 4497 with the first Capstone course in your major and HON 4499 with the second (e.g., HON 4497 Capstone Proposal with ME 4201 and HON 4499 Capstone Completion with ME 4202). Please talk to your advisor in your major to learn more about the requirements in your major.
Other majors requiring a Capstone or Senior Project only have one course for the development and completion of the project, such as IS 4880 IS Capstone Course in the B.S. in Information Systems. In that case, take HON 4497 AND HON 4499 together during the semester that you take the capstone in your major (e.g., HON 4497, HON 4499, and IS 4880 in the same semester). You may need to email honors@kennesaw.edu to request an override so that you can do so. Please talk to your advisor in your major to learn more about the requirements in your major.

Psychology

See your psychology advisor regularly. http://psychology.hss.kennesaw.edu/resources/advising/
You need to talk to your psychology advisor before you start HON 4497 to ensure you meet departmental guidelines.
You must sign up for HON 4499 for three-hours so that you can substitute it for the three-hour required class PSYC 4499: Senior Seminar in Psychology.
Honors students must also submit a Capstone Substitution Request form to the department both before and immediately prior to completing the HON 4499 class.
See http://psychology.hss.kennesaw.edu/resources/ for details.