PEGS students benefit from a unique and intentional curriculum designed to promote student success. In addition to the many benefits of membership in the Honors College such as priority registration and optional Honors housing, PEGS students will grow as leaders and gain the Foundations of Honors Learning which includes skills such as critical thinking, creativity and innovation, and effective communication. In addition, the PEGS student cohort will participate in an exclusive set of courses and international education experiences as follows: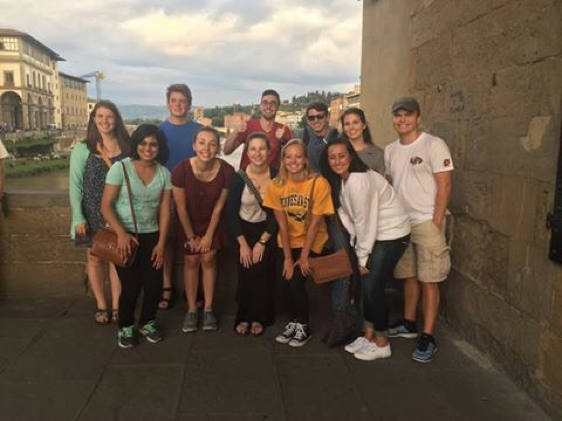 In the PEGS Foundations course, students will learn about the three pillars of the President's Emerging Global Scholars program: Leadership, Global Competency, and Service.

Developing Your Professional Portfolio

Preparing students to create competitive and compelling scholarship, graduate school, or internship applications is the focus of this exciting course offered exclusively to PEGS students. Participants benefit from one-on-one guidance in their pursuit of exceptional academic opportunities from their first semester on campus until their last.

PEGS students have received a variety of national and international scholarships, including:
• Fulbright United Kingdom Summer Institute
• Barry Goldwater Scholarship and Excellence in Education Program
• Benjamin A. Gilman Scholarship and Excellence in Education Program
• Rotary Scholarship to the University of Oslo, Norway.
• Prestigious internships at institutions such as the Carter Center, the Centers for Disease Control, and the Pentagon.

Developing Intercultural Competencies

The world is a vibrant place, full of unique individuals and contrasting ideas. The ability to appreciate, recognize, and embrace difference -- in every sense of the word -- is critical to success in college, in the job market, and, more importantly, in life.

As part of their leadership development, PEGS students take a strategic dive into intercultural competency during their freshman year. As sophomores, students travel to Italy as a cohort. While in country, we are not just tourists. We actually serve in social projects that are important and active in the countries we visit.

The PEGS program is grateful for the support of the Beacon Foundation for their support of international education and tuition scholarships for students in this program.

Engagement in the local, national, and global community is an important aspect of intellectual and professional development. PEGS students have the opportunity to find their passion through local service projects conducted with their cohort and/or within the Honors College.

The PEGS program has embedded relationships with several on-and off-campus nonprofit organizations, especially those that help young people through challenging times in their lives. Our students recognize the importance of giving back to those in need.

In the process, our students develop patterns of community involvement. Personal success can only be accelerated if that success leads to a better world.
*All PEGS classes take place on the Kennesaw Campus
*1st year international travel occurs during Spring Break. 2nd year international travel occurs during the Maymester period.
*Spring courses prepare students for travel by including information about the location, people, language, and culture of the country that will be explored.