What Can You Do with a Ph.D. in Business Administration?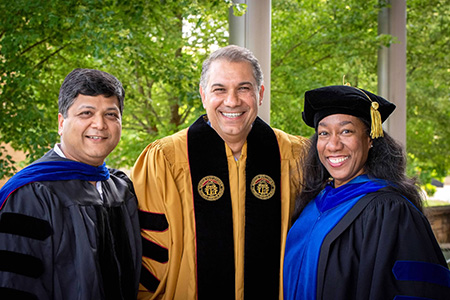 The Ph.D. in Business Administration is a major developmental step toward helping individuals achieve their long-term goals. This business doctoral program admits individuals with significant professional experience in their area of expertise and, through a unique combination of interdisciplinary courses, seminars, and directed studies, helps them develop essential research skills that meet AACSB standards for scholarly academic faculty status. Given the high standards of this program, the admission process is highly competitive and designed to identify applicants with the background and experience necessary to complete the requirements of a rigorous doctoral degree program.
The following criteria should help you determine if you are ready to pursue and complete the Ph.D. in Business Administration at Coles College of Business!
Significant professional experience and training
Evidence of intellectual ability and achievement—quality and rigor of previous educational experience
Evidence of intellectual curiosity indicated by frequent personal and professional development efforts (e.g., CPA, SPHR, PMP, etc.)
Personal assessment of "fit" with program objectives and structure
Quality and depth of research interest overview produced after attending the research workshop
Expansion Happens in the Business Ph.D. Program at KSU
Innovative resources, tools and technology are updated regularly. The Teams Collaborative classrooms were created to help facilitate remote collaboration seamlessly and add flexibility for learners.
Program sustainability is prioritized to improve the quality of students and faculty members selected.