The Ph.D. Marketing Concentration Areas of Research Focus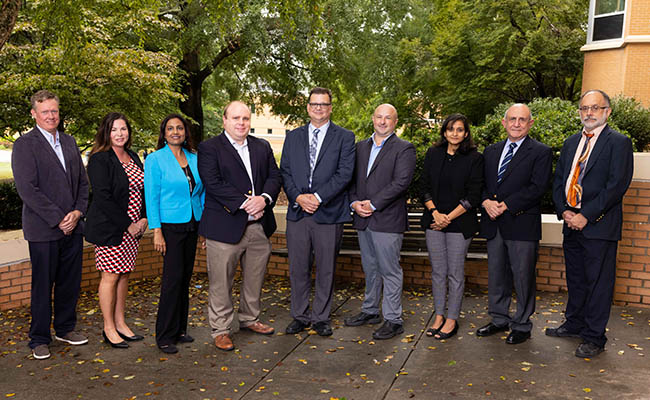 Excel in research, teaching, and leadership positions in academia. Conduct and publish cutting-edge research on consumer behavior, marketing strategy, business-to-business, and more. Our Doctors of Business Administration faculty have broad research interests that span key areas:
Business-to-Business marketing
Communication: Advertising and promotion
Consumer behavior
Consumer privacy
Culture
Emerging markets
Ethics
Fashion
International marketing
Marketing strategy
Materialism
New product and technology adoption
Retailing
Sales management
Sales performance
Sustainability
*Faculty use both quantitative and qualitative techniques and have worked on scale development.
Is Becoming a Doctor of Business Administration right for you?
Get your questions answered! Attend an Information Session today before applying to the KSU Ph.D. in Business Administration program at Coles College of Business!
Attend an Information Session
Ready to Start the Application Process?
Apply Now
Brochure
Alumni/Student Placements

East Tennessee State University
Embry-Riddle Aeronautical University
Fayetteville State University
Florida State University
Georgia College
Michigan State University
Middle Tennessee State University
Nova Southeastern University
Salisbury University
Savannah State University
Southeastern Louisiana University
Stetson University
Troy University
University of Nebraska, Lincoln
University of Southern Mississippi
Western Kentucky University

Alumni/Student Publications

Harvard Business Review
Industrial Marketing Management
Journal of Business Research
Journal of Marketing Theory and Practice
Journal of Personal Selling & Sales Management
European Business Review
European Journal of Management
Journal of Business-to-Business Marketing
Marketing Management Journal

Coles Ph.D. Scholars' Select Publications

Journal of Marketing Research
Journal of the Academy of Marketing Science
Industrial Marketing Management
Journal of Business Ethics
Journal of Business Research
Journal of Consumer Affairs
Journal of Personal Selling & Sales Management
Psychology and Marketing
Journal of Business & Industrial Marketing
Journal of Consumer Marketing
Journal of Applied Business Research
Journal of Social Psychology